Legislator Details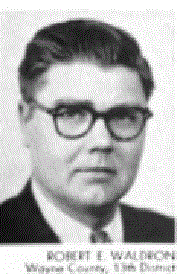 Image Description:
Robert E. Waldron portrait from Manual 1959 p.lxii
Number of sessions served 8
Gender: Male
Age at election: 34
Vital Records Information:
Birth
Date: 1/25/1920
City: Brookline, MA
County: Norfolk County, MA
Country: US
Death
Date: 10/25/2000
City: Okemos, MI
County: Ingham County, MI
Country: US
Type of Burial:
Burial
Date:
City:
County:
Country:
Cemetery:
Marital Information:
married Virginia Carter Smith, dau. of F. Janney and Jeanie W. (Smart) Smith, in Detroit, 4-5-1947; married Helen Miller of Highland Park, dau. of Leslie Washington and Margaret (Spier) Miller, in Grosse Pointe, MI, 4-7-1951; children: 3, William, Mary and Margaret divorced twice; remarried to Helen in the summer of 2000
Number of Children: 2
---
Background
Religion: Episcopalian
Military Service: United States Army Air Corps
Occupation: lawyer
Race: Caucasian or White
Education:
graduated from Grosse Pointe High School in 1938; attended Dartmouth College, 1938-1941, graduated from Dartmouth College in 1946; graduated from University of Michigan Law School in 1949.
Biographical Sketch:
Son of Robert George and Adelaide (Merrimon) Waldron. Practiced law since 1949. Served in the US Army Air Force in the European Theatre of Operations [4 years]; relieved from active duty as captain in 1946; member of Michigan and American Bar Associations and American Legion; served in the 1st, 13th and 14th Congressional Districts of Wayne County with the Young Republican Organization and on the policy committee of the Wayne County Republicans; member of the Episcopal Church, Detroit. After leaving office he was a lobbyist for the oil industry. Became director of the Associated Petroleum Industries of Michigan until 1990. Moved to Ann Arbor in 2000.
Notable Facts:
His last residence was in Detroit per SSDI; DFP obit. says he had moved to Ann Arbor the summer before he died there from cancer. Two of his law partners went on to become state Supreme Court Justices, Thomas Brennan and James Brickley [also Lt.Gov]; two others were on the court of appeals: Roman Gibbs [also mayor of Detroit] and Richard Maher. He donated his body for scientific research. Elected speaker in 1967 when the parties were tied for seats. One democrat abstained.
---
Sessions Served:
Postions Held: Minority Leader
City of Residence: Grosse Pointe
County of Residence Wayne
Reason for Leaving Office: Unknown
End of Term Status: Departed
City of Residence: Grosse Pointe
County of Residence Wayne
District Description: Grosse Pointe Township; cities of Grosse Pointe, Grosse Pointe Farms, Grosse Pointe Park (part), Grosse Pointe Woods and Harper Woods in Wayne County
Reason for Leaving Office: N/A
End of Term Status: Re-elected
Committees Served On: Labor , Metropolitan Affairs, Retirement
Postions Held: Minority Floor Leader
City of Residence: Grosse Pointe
County of Residence Wayne
District Description: Grosse Pointe Township; cities of Grosse Pointe, Grosse Pointe Farms, Grosse Pointe Park (part), Grosse Pointe Woods and Harper Woods in Wayne County
Reason for Leaving Office: N/A
End of Term Status: Re-elected
Committees Served On: General Taxation , Juvenile Corrections, Labor , Social Aid and Welfare
City of Residence: Grosse Pointe
County of Residence Wayne
District Description: Cities of Grosse Pointe, Grosse Pointe Farms, Grosse Pointe Park, Grosse Pointe Woods and Harper Woods ; township of Grosse Pointe
Reason for Leaving Office: N/A
End of Term Status: Re-elected
Committees Served On: Apportionment , Education , Labor , Metropolitan Affairs, Social Aid and Welfare
City of Residence: Grosse Pointe
County of Residence Wayne
District Description: Cities of Grosse Pointe, Grosse Pointe Farms, Grosse Pointe Park, Grosse Pointe Woods and Harper Woods; township of Grosse Pointe
Reason for Leaving Office: N/A
End of Term Status: Re-elected
Notes: Chair of the Committee on Labor
Committees Served On: Apportionment , Education , Elections , Metropolitan Affairs
City of Residence: Grosse Pointe
County of Residence Wayne
District Description: Cities of Grosse Pointe, Grosse Pointe Farms, Grosse Pointe Park, Grosse Pointe Woods and Harper Woods; township of Grosse Pointe
Reason for Leaving Office: N/A
End of Term Status: Re-elected
Notes: Chair of the Committee on Elections
Committees Served On: Elections , Juvenile Corrections, Metropolitan Affairs, Rules and Resolutions
City of Residence: Grosse Pointe
County of Residence Wayne
District Description: Cities of Grosse Pointe, Grosse Pointe Farms, Grosse Pointe Park, Grosse Pointe Woods and Harper Woods ; township of Grosse Pointe
Reason for Leaving Office: N/A
End of Term Status: Re-elected
Notes: Chair of the Committee on Elections
Committees Served On: Insurance , Judiciary , Metropolitan Affairs, Printing
City of Residence: Grosse Pointe
County of Residence Wayne
District Description: Cities of Grosse Pointe, Grosse Pointe Farms, Grosse Pointe Park, Grosse Pointe Woods and Harper Woods ; township of Grosse Pointe
Reason for Leaving Office: N/A
End of Term Status: Re-elected
Notes: Chair of the Committee on Printing
---
Bibliography:
Manual 1955 p.210; Manual 1957 p.205; Manual 1963-64 p. 198-99; PolGryd; 2000 SJ p.1858, SCR182; SSDI; MIMarRec 1867-1952; DFP 10-27-2000 p.12A and DFP 10-26-2000 p.7B