Legislator Details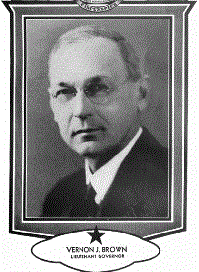 Image Description:
Vernon J. Brown portrait from Manual 1945, unpaged
Number of sessions served 5
Gender: Male
Age at election: 54
Vital Records Information:
Birth
Date: 3/20/1874
City: VeVay, MI
County: Ingham County, MI
Country: US
Death
Date: 4/8/1964
City: Webberville, MI
County: Ingham County, MI
Country: US
Type of Burial: interred
Burial
Date:
City: Vevay Township, MI
County: Ingham County, MI
Country: US
Cemetery:
Marital Information:
Married Maude De Camp, dau. of Nelson & Caroline (Grimes) De Camp, 12/31/1895; children: Hugh J., Nelson D., Ruth E.(Wallace); Russell M. & Dorothy H.
Number of Children: 5
---
Background
Religion: Presbyterian
Military Service:
Occupation: Editor and Owner/Ingham Co. News, Mason
Race: Caucasian or White
Education:
Mason High School
Biographical Sketch:
Son of John Madison & Nancy (Jacobs) Brown. Attended high school in Mason; farmed until 1905. Worked in the Auditor Gen.'s office, 1905-09; 1909-14 worked as a secretary at the Boys Vocational School. Later bought the Ingahm County News & became its editor & public=sher. Elected Auditor Gen., 1938. engaged in the retail grocery business until elected county clerk in 1918 which office he held for two terms. since that time Mr. Brown has owned and edited the Ingham County News at Mason. He has also held various township offices, was alderman in the city of Lansing, mayor of the city of Mason and a member of the board of education of mason.Member of the Masons, BPOE (Elks), & Kiwanis
Notable Facts:
Served 5 terms in the legislature. The Detroit News reported that he died at his daughter's home in Webberville.
---
Sessions Served:
Committees Served On: General Taxation , Ways and Means
County of Residence Ingham
District Description: Townships of Alaiedon, Aurelius, Bunker Hill, Delhi, Ingham, Lansing, Le Roy, Leslie, Locke, Meridian, Onondaga, Stockbridge, Vevay, Wheatfield, White Oak, and Williamstown, and the cities of East Lansing and Mason in Ingham County
Reason for Leaving Office: N/A
End of Term Status: Departed
Committees Served On: General Taxation , Michigan State College of Agriculture and Applied Science, State Public School, University
County of Residence Ingham
District Description: Townships of Alaiedon, Aurelius, Bunker Hill, Delhi, Ingham, Lansing, Le Roy, Leslie, Locke, Meridian, Onondaga, Stockbridge, Vevay, Wheatfield, White Oak, and Williamstown, and the cities of East Lansing, and Mason in Ingham County
Reason for Leaving Office: N/A
End of Term Status: Re-elected
Notes: Chair of the Committee on General Taxation
Committees Served On: Ways and Means
County of Residence Ingham
District Description: Townships of Alaiedon, Aurelius, Bunker Hill, Delhi, Ingham, Lansing, Le Roy, Leslie, Locke, Meridian, Onondaga, Stockbridge, Vevay, Wheatfield, White Oak, and Williamstown, and the cities of East Lansing, and Mason
Reason for Leaving Office: N/A
End of Term Status: Re-elected
Committees Served On: Elections , General Taxation , Michigan College of Mining and Technology, Michigan State College of Agriculture and Applied Science
County of Residence Ingham
District Description: Township of Alaiedon, Aurelius, Bunker Hill, Delhi, Ingham, Lansing, Le Roy, Leslie, Locke, Meridian, Onondaga, Stockbridge, Vevay, Wheatfield, White Oaks, Williamstown, East Lansing City, Mason city
Reason for Leaving Office: N/A
End of Term Status: Re-elected
Committees Served On: Elections , Michigan State College of Agriculture and Applied Science, Pontiac State Hospital , Printing
County of Residence Ingham
District Description: Township of Alaiedon, Aurelius, Bunker Hill, Delhi, Ingham, Lansing, LeRoy, Leslie, Locke, Meridian, Onondaga, Stockbridge, Wheatfield, White Oak, Williamstown, East Lansing city, Mason city
Reason for Leaving Office: N/A
End of Term Status: Re-elected
---
Bibliography:
Lewis 5:599-600; Manual 1933 p.650; Manual 1929 p.686; Manual 1935 p.701-702; PolGryd; 1964 HJ p.1210, HCR75; Manual 1931 P.658;